媒体报道
Mediapost "The Trade Desk Will Use $60M In Equity On Share Buyback, Growth" - Felicia Greiff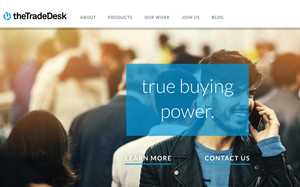 http://www.mediapost.com/publications/article/2720…

Felicia Greiff
The Trade Desk has announced a $60 million round of equity funding with Wellington Management Company that will be used to buy back shares from early investors and add cash to the company's balance sheet.
The round, which closed in January, was the company's biggest funding infusion to date. In part, it will be used to fund long-term growth and support the company's global clients.
Earlier this month, The Trade Desk announced that Netflix CFO David Wells joined its board of directors as an independent member.
In 2014, The Trade Desk received $45 million in debt financing and it closed a $20 million Series B round of funding led by Hermes Growth Partners.
Recently, The Trade Desk and native ad supply-side platform Sharethrough announced a partnership letting buyers purchase in-feed ads through The Trade Desk's omnichannel RTB platform, Real-Time Daily reported.