AdExchanger "The Trade Desk Snaps Up Adbrain As Ad Tech Pursues Cross-Device Roots"
2017 年 10 月 26 日
---
The Trade Desk Snaps Up Adbrain As Ad Tech Pursues Cross-Device Roots
by James Hercher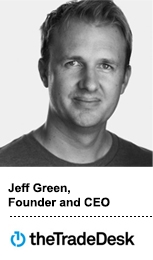 The Trade Desk on Wednesday made its first-ever acquisition when it bought the cross-device identity graph company Adbrain, adding a data set of cross-device IDs to its own demand-side platform.
Terms of the deal were not disclosed. But the acquisition isn't expected to materially impact The Trade Desk's earning report and adds a 20-person team to the company, bringing total headcount to 650, founder and CEO Jeff Green told AdExchanger.
The deal may not have broken the bank, but "when we were made aware Adbrain was considering a sale, we recognized that if it was sold to someone else we likely wouldn't have access to that data set anymore," Green said.
Since 2015, The Trade Desk has included Adbrain in its cross-device services marketplace, a platform feature with other identity-linking graphs from companies like Drawbridge, Tapad and LiveRamp.
"We don't think any one company, including ourselves, could create one data set that can adequately account for the entire internet," Green said. But when deterministic data sets are acquired, they can disappear from view for the open ecosystem.
Green doesn't expect owning Adbrain to affect the company's cross-device partnerships.
"I still expect a lot of growth from partners like Oracle, LiveRamp and Drawbridge on our platform, and this will just make those cross-device extensions more effective," he said.
For Tapad, a seller in The Trade Desk's cross-device market, "overall, we see it as a positive development that The Trade Desk moves to give an independent alternative to walled gardens," CEO Sigvart Voss Eriksen told AdExchanger in an email.
Ad tech companies' ability to apply deterministic data online gets to the heart of the commanding position held by walled gardens in digital media.
The Adbrain acquisition is "not just about solving a general cross-device problem," Green said. "It's about solving a problem across all programmatic media, inside or outside walled gardens."
The average US consumer, for instance, owns three or four identifiable devices, like smartphones, tablets or computers, he said. For big brands in particular, which tend to have bigger campaigns spread across more media channels, "understanding when you're talking to the same person or device even as that user goes from The New York Times app to Spotify, and then later on the web, say, is a major focus right now outside of walled gardens."
Owning a proprietary data set "will enhance that story we can tell to our standard customer, which are the agencies working with those brands that are frankly suffering the most from the impacts of walled gardens," Green said. "It's something agencies increasingly want and expect from their non-walled-garden ad platforms."